Medford Garden Railroaders
---
Modeling 101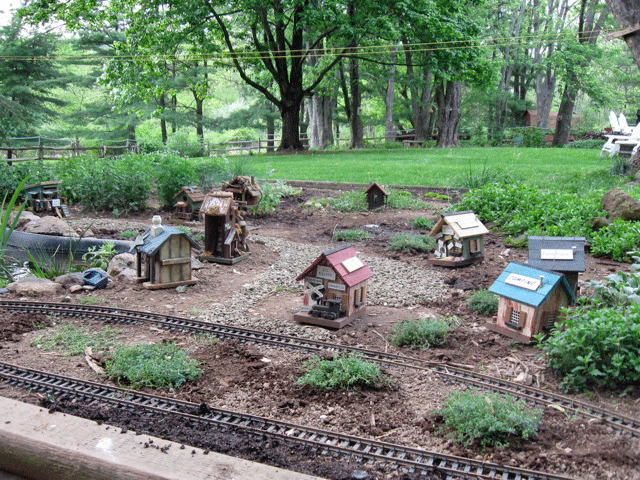 When you look at our layout, or a video you might see on YouTube, it is easy to be overcome by the size and breadth of it. You may feel that you could never have a layout like that in your yard, even in smaller detail. What you see in our layout represents the collective efforts on many members who have many years' of modeling and garden railroad experience. One thing they have in common, is that they had to start somewhere.
A nice, attractive, backyard layout does not have to be costly or difficult to do.
The items listed on this page are some basic things you can do to start or improve your new garden railroad.
Bird Houses can make instant buildings. Here is an example of how one member used purchased bird houses to make an instant village.
Since bird houses come in various sizes, how do you know what size will look best with G-Scale trains? As you may know, G-Scale trains range in size from 1:24 to 1:32, and what "looks good" can vary in size. What we is to follow the door-to-credit card rule. That is, any front door should roughly be the same size as a credit card held vertically.
---
© 2016 Medford Garden Railroaders, Inc. - all rights reserved